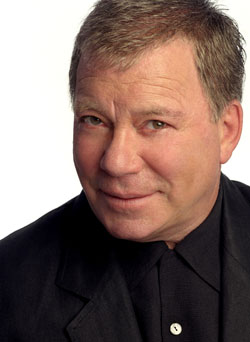 William Alan Shatner (photo ©Jerry Avenaim) was born on March 22, 1931 in Côte Saint-Luc, near Montreal, Quebec, Canada.
William Shatner soon began studying acting as a Shakespearean actor, participating in several stage plays including some Broadway ones in the '50s. In 1951 Shatner made ​​his cinema debut in a Canadian film titled "The Butler's Night Off" then he had various roles in both movies and television shows including some well known such as "Alfred Hitchcock Presents", "The Twilight Zone" and "The Outer Limits".
In 1966 William Shatner was cast in the role of Captain James T. Kirk in the sci-fi series "Star Trek". Although initially the series success was fairly limited, causing the cancellation of the spaceship Enterprise crew's adventures after its third season, this role influenced all his future life and became the one for which he's best known.
Immediately after the end of "Star Trek" however William Shatner had trouble finding work, so that for a time he lived in a camper. During the '70s anyway he managed to appear as a guest star in well known shows such as "The Six Million Dollar Man", "Columbo", "Kung Fu" and "Mission: Impossible".
In the '70s "Star Trek" reruns led to the birth of a cult for this series and William Shatner began to appear at various conventions devoted to this show. There was even a project to create a new Star Trek television series but after a few years it was decided to produce a film, in which Shatner reprised his role as Captain Kirk. This film's success led to the production of various sequels and Shatner was in them until the sixth movie, in which Captain Kirk dies.
During the '80s William Shatner built a career that had nothing to do with Star Trek for example becoming the star of the police series "T.J. Hooker", in which he was also a director of some episodes. In the '90s Shatner produced the series "Tekwar", where he was also an actor and occasionally a director.
In 2003 William Shatner started playing the lawyer Denny Crane in the series "The Practice" and later in the series "Boston Legal". For this role Shatner won an Emmy in 2004 and 2005, when he also won a Golden Globe.
William Shatner's personal life is complicated: for example he's been married four times, although his third wife unfortunately died. His relationships with his colleagues were sometimes difficult so he's friends with Leonard Nimoy while other actors he worked with him don't speak very well about him.
Despite the success in playing Denny Crane, Captain Kirk is still his most famous character, so much that William Shatner gave the crew of the Space Shuttle Discovery's last mission in March 2011 a wake-up call based on the introduction to "Star Trek" episodes: "Space, the final frontier. These have been the voyages of the Space Shuttle Discovery. Her 30 year mission: To seek out new science. To build new outposts. To bring nations together on the final frontier. To boldly go, and do, what no spacecraft has done before.".