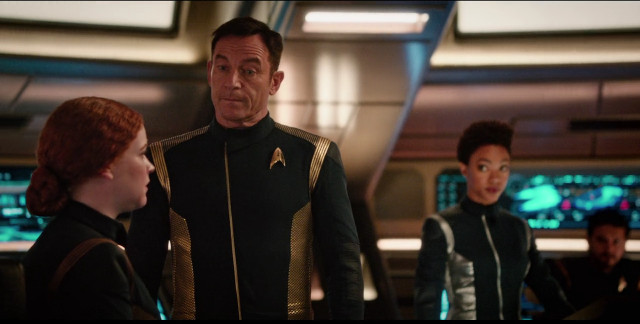 "Despite Yourself" is the 10th episode of the TV show "Star Trek: Discovery" and follows "Into the Forest I Go".
Note. This article contains spoilers about "Despite Yourself".
While the USS Discovery ended up in a parallel universe with the need to quickly establish who are their friends and who are their enemies, Ash Tyler (Shazad Latif) confronts L'Rell (Mary Chieffo) to understand what happened to him during what he remembers as the period spent in a Klingon prison.
The tenth episode, the first of 2018, was directed by Jonathan Frakes, known for having played Commander William Riker and occasionally his "twin" Thomas Riker. The first part of the season finished with more doubts than certainties on this series, the second part begins with the USS Discovery ended up in what looks like the mirror universe.
In the previous shows there were a number of important episodes set in the mirror universe, in the case of "Star Trek: Enterprise" perhaps the best of a show that too often was really mediocre. In "Despite Yourself" there's a good tension deriving from the danger that the protagonists are in both individually in a universe in which humans' advance in the ranks by killing their superiors and as a crew for the danger of being discovered.
"Despite Yourself" also continues the subplot about Ash Tyler adding clues that confirm the theory that he's actually Voq. At this point, the real doubt seems to be the one created by L'Rell's to Tyler's behavior, which suggests that something went wrong in his human personality's implant. The more his identity is questioned the more Tyler seems to be wanting to protect Michael Burnham (Sonequa Martin-Green).
That the story of Ash Tyler is still to be developed is also confirmed by the killing of Dr. Hugh Culber (Wilson Cruz). This is an event that isn't easy to handle, also because a number of times in other shows the death of a gay character led to protests from the LGBT community.
I liked the fact that the USS Discovery didn't return to its own universe at the end of the episode. Too often interesting plots are concluded hastily wasting their potential, this time at least there's the hope that something good can be built. The twists and turns were not exactly great surprises but it seems that in "Star Trek: Discovery" the authors struggle to find something surprising, however, this new start of the show seemed at least pleasant to me.