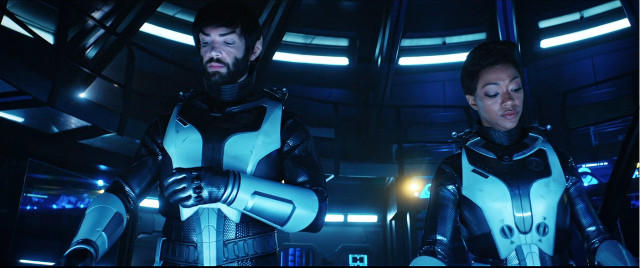 "Through the Valley of Shadows" is the 12th episode of the 2nd season of the TV show "Star Trek: Discovery" and follows "Perpetual Infinity".
Note. This article contains spoilers about "Through the Valley of Shadows".
A new cosmic signal is detected and even if its origin is unknown it's a trace that can't be ignored. It brings to Boreth, the Klingon planet that hosts a monastery that among other things keeps time crystals. While Captain Christopher Pike (Anson Mount) goes to the monastery, Michael Burnham (Sonequa Martin-Green) and Spock (Ethan Peck) investigate an anomaly linked to the activity of a Section 31 starship.
The intervention of Control left a chaotic situation with a series of doubts about the future, which can no longer count on Gabrielle Burnham's intervention. Michael Burnham, who normally swings between emotions and logic, is more than ever struck by the situation and is almost schizophrenic in her behavior at the beginning of "Through the Valley of Shadows". It's not her fault, they write her that way.
This episode digs a lot into Star Trek's continuity returning once again to the planet Boreth, this time to explore the consequences of the presence of time crystals, but also returning to Captain Christopher Pike's personal history. These elements are mixed with the story of Ash Tyler (Shazad Latif) and L'Rell (Mary Chieffo) and in my opinion the result is the best part of "Through the Valley of Shadows".
After a few episodes in which Captain Christopher Pike was almost in the background, he finally returns to being a great protagonist and has very intense moments. Star Trek fans know the events of what is for him the future and therefore fully understand how difficult is the choice he makes when Tenavik (Kenneth Mitchell), the keeper of the crystals, tells him that taking one of them will make that future fixed.
Sacrifice is a central theme of "Through the Valley of Shadows" because Voq and L'Rell's son was sent to Boreth, where he can live anonymously. Voq himself had already sacrificed everything by becoming Ash Tyler even before he had a child. In this episode, Captain Christopher Pike saw the most terrible moments of his future and decided to accept it to save billions and billions of sentient beings. I found it positive that the results of the sacrifices made by Voq/Ash Tyler and L'Rell are also shown and we know Captain Pike's future.
For these reasons, "Through the Valley of Shadows" seemed to me a strong episode for some of its specific elements. As part of the Red Angel's story-arc there's a progress thanks to time crystals but the ending shows a possible new dramatic moment.