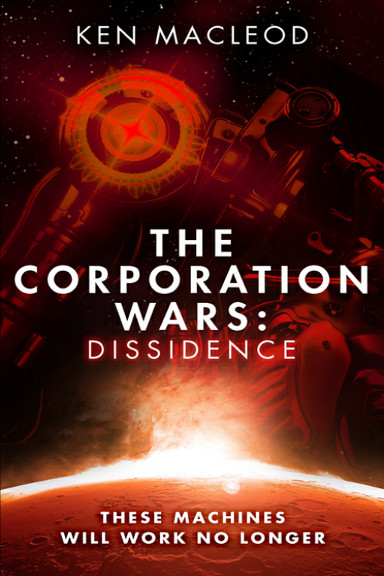 The novel "The Corporation Wars: Dissidence" by Ken MacLeod was published for the first time in 2016. It's the first book in The Corporation Wars trilogy.
Carlos is dead but his mind has been digitized and sent to another solar system, where it's activated in a virtual world. There, Carlos discovers that he was condemned to fight alongside other people in the same situation against robots that have become sentient and consequently violated the laws governing artificial intelligence.
To perform the service on behalf of what are called DisCorporates to which they have been sentenced, the minds of Carlos and the others are trained to control robotic bodies to use against the sentient robots. Soon the situation starts turning out to be more complicated than Carlos thought.
In a future where robots are sent into deep space to work for humans, criminals can be tried and sentenced even after their death by having a digitized version of them serve their sentences. Normally, disputes between companies operating in space are resolved by lawyers, which are often artificial intelligences, or by robots. But when robots develop self-awareness, the companies that own them lose control over them. That's unacceptable, and the solution is to use criminals to fight them.
The opening part of the novel is confusing because it's told mainly from Carlos' point of view, so the reader participates in the protagonist's confusion when he wakes up centuries after he died. His situation is explained to him but in the virtual reality in which he was awakened not everyone is what they seem and he is given only the information he needs to know for his mission.
These premises are used by Ken MacLeod to develop a plot full of surprises and twists. Initially, there are questions and unknowns around topics such as artificial intelligence and identity in a future where minds can be digitized. Apart from the beginning, which tells Carlos' death, the story takes place far from the Earth, its politics, and its economy, but is strongly influenced by them. These are themes dear to the author but in this case, they tend to be developed in the dialogues between characters and sometimes in flashbacks regarding Carlos' past life.
In this novel, it can be said that the workers become aware in the literal sense since they are robots that develop their self-awareness. Their owners are not happy about it. This allegorical tale is part of a larger story Ken MacLeod references here and there.
In this complex scenario, Carlos and the other members of his group are also being exploited by the DisCorporations. That complicated situation with them at the center is shown by their clashes with the robots but above all by their dialogues, which are also used to develop the characters. There's a lot of action alternating with conversations and Carlos memories where the pace slows down.
The ending of "The Corporation Wars: Dissidence" is abrupt: not a cliffhanger but not what is expected in the ending of a standalone novel either. For this reason, it may appeal to readers interested in the themes developed by Ken MacLeod knowing that they have to read the entire trilogy to get the complete story.