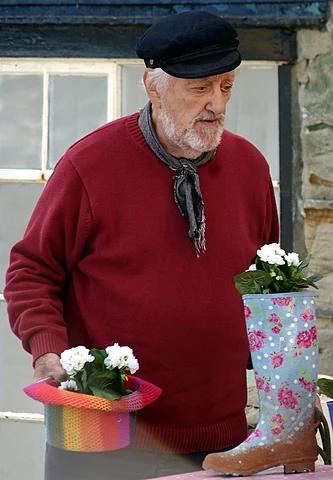 Actor Bernard Cribbins (Photo ©mattbuck) passed away, a piece of news confirmed by his agent, who mentioned July 27 as the date of his death while some newspapers reported July 28 as the date of his death. No information was disclosed on the reason for his death.
Bernard Joseph Cribbins was born on December 29, 1928, in Oldham, Lancashire, England. At 13 he dropped out of school and started working at a local theater as an assistant stage manager but also got small roles as an actor. Subsequently, he became an apprentice at the Oldham Repertory Theater.
Bernard Cribbins' acting career in cinema and television began in the 1950s with various more or less important roles, including some in famous productions such as the TV show "The Avengers", the Carry On movies "Carry On Jack" (1963), and "Carry On Spying" (1964), and "Daleks' Invasion Earth 2150 A.D." (1966), his first experience linked to the "Doctor Who" saga, although unconnected from the TV show. In those years, he became famous in particular for his performances in comic songs, published in the so-called novelty records.
In the 1970s, Bernard Cribbins landed several major roles or at least in major productions such as Alfred Hitchcock's 1972 movie "Frenzy" and the TV show "The Wombles", which aired between 1973 and 1975. Those are just a couple of examples of the many roles that the actor had over the decades and that brought him the appreciation of generations of spectators. For example, the length of his career led him to return to the Carry On series films with "Carry on Columbus" (1992) and to participate in a new version of the TV show "The Wombles".
In the later years of his career, Bernard Cribbins came to the "Doctor Who" television saga playing grandpa Wilf in the new series. He also starred in the TV show "Old Jack's Boat". These are the most recent roles he will be remembered for.
In 2011, Bernard Cribbins received the honor of the Order of the British Empire (OBE) for his very long acting career. In his private life, he married Gillian McBarnet in 1955 and the marriage lasted until his wife died on October 11, 2021.
Bernard Cribbins was especially appreciated as a comedian but over the course of his long career, he showed his versatility with various roles of different types. He worked until the end acting again in a "Doctor Who" episode which will be broadcast in 2023: the various celebrations, which include the 100th anniversary of the BBC and the 60th anniversary of the saga, will certainly have one added for Bernard Cribbins.