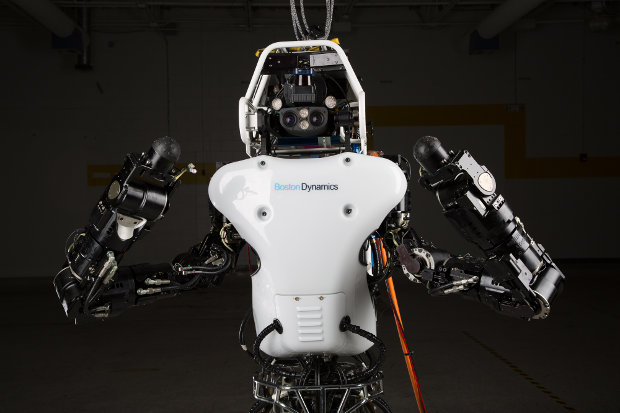 Boston Dynamics, the robot manufacturer acquired by Google at the end of 2013, introduced a new version of its Atlas model. It will participate in the DARPA Robotics Challenge (DRC), a robot competition which will take place on June 5-6 2015. The new version of Atlas is wireless and for this reason has been called Atlas Unplugged to meet the new demands of DARPA (Defense Advanced Research Projects Agency) for the final phase of its competition.
The use of a 3.7 kWh lithium-ion battery to power Atlas Unplugged is the most obvious change but many other parts of this robot's "anatomy" were modified to increase autonomy but also the possibilities of movement. In the end, this robot 1,88 m (6'2″) tall weighing a little more than 150 kg (345 lbs) kept only its lower legs from the previous version.
Atlas's Arms and shoulders were repositioned to allow it to have more workspace in front of the robot. Now Atlas can see its hands moving too and that allows its operators to receive a greater amount of data while during its use.
Its wrists now have a greater freedom of movement. This will allow Atlas to perform operations such as opening a door by simply rotating its wrist instead of moving the whole arm. Its forearms are also equipped with new electrical actuators that give them more power, dexterity and also improve its force sensing. Other actuators of different sizes were installed in Atlas's hip, knees and back to provide greater strength.
The teams that will use Atlas Unplugged in the DRC can differentiate not only with their competition strategy but also with the software and the control interface. They will operate on the three on-board computers that allow to schedule the robot's tasks communicating with it via a wireless router.
In the course of the DRC, the robots will face various taks that simulate conditions dangerous for humans. Atlas Unplugged must be ready to perform rescue operations in environments built for human beings where, however, there may be buildings partly destroyed, therefore with further obstacles.
Officially, the purpose is only to create robots that can intervene in places where there was a natural disaster or an event such as an accident at a nuclear plant. However, DARPA is an agency of the US Department of Defense so many people wonder about the applications of the robotic technologies developed. One wonders also about Google's plans for Atlas and the various technologies developed by Boston Dynamics and other start-ups in the field of robotics purchased in recent years by the company.
[ad name="AmazonElectronics468″]