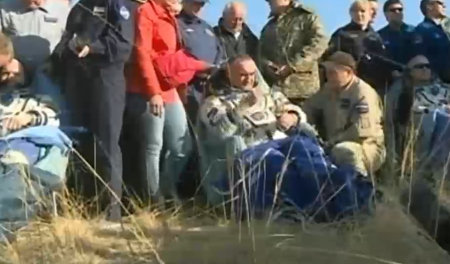 A few hours ago, the American astronaut Steve Swanson and the Russian cosmonauts Alexander Skvortsov and Oleg Artemyev returned to Earth on the Soyuz TMA-12M spacecraft, which landed safely in Kazakhstan. The three of them spent almost exactly six months on the International Space Station, where they arrived on March 28, 2014 Initially, they were part of Expedition 39, in the second half of their stay they were part of Expedition 40 with Steve Swanson as commander of the Station.
Over the six months spent on the International Space Station, the three crew members carried out various routine maintenance activities and many scientific experiments. The period of the Expedition 39 was intense, especially April with a number of spacecraft that arrived and departed, in particular the SpaceX Dragon.
The period of the Expedition 40 was certainly not a holiday because again more spacecraft arrived and left the International Space Station. After the departure of the Dragon, in July, came the Orbital Sciences Cygnus, the Russian Progress and ESA's ATV-5 with many supplies, new scientific experiments and instruments.
The Cygnus departed on August 15 to disintegrate in Earth's atmosphere along with parts broken or no longer usable and other junk. The ATV-5 will remain for several more weeks docked to the Station: it can also be used as an additional living unit due to its size and to maneuver to boost the orbit of the station.
On June 19, Alexander Skvortsov and Oleg Artemyev performed a spacewalk lasted about 7 hours and 23 minutes to install a communication antenna outside of the Zvezda module. The taks included the connection of the cables required to integrate it into the communications system.
On August 18, Alexander Skvortsov and Oleg Artemyev performed another spacewalk that lasted about 5 hours and 11 minutes. The two cosmonauts launched the Peruvian Chasqui 1 small scientific satellite designed to take pictures of the Earth and broadcast them to a ground station. They also installed some ESA's scientific experiments for the study of biomaterials and extremophile organisms and inspected various components outside the orbital laboratory.
On Monday, September 9, Steve Swanson officially passed command of the International Space Station to the Russian cosmonaut Maksim Suraev, marking the beginning of the Expedition 41. The crew will be completed by the arrival of three other members, scheduled for the end of September.