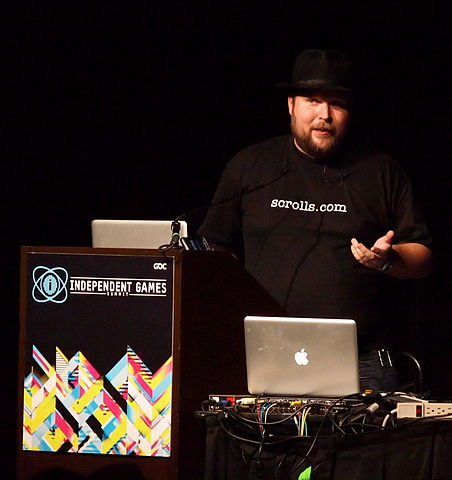 After many rumors in recent weeks, the official announcement came that Microsoft acquired Mojang, an independent video game developer, known in particular for the famous Minecraft. The terms of the agreement exceed even those already very high from the rumors because Microsoft provides the figure of $2.5 billion. The owner of the majority of the Mojang shares, Markus "Notch" Persson (photo ©Official GDC), decided to leave its creature along with co-founders Carl Manneh and Jakob Porsér.
In a world in which acquisitions happen on a dayly basis with very high figures, this one is really out of the ordinary. The story of Mojang was really special because it was a small company and Notch Persson proudly proclaimed his independence from large companies interested in exploiting the commercial success of Minecraft.
Created in 2009, Mojang is best known for Minecraft, the virtual world created by Notch Persson. The game has become more and more popular over the years, so much as to generate profits that in 2013 exceeded $100 million. Today, the game is available for several different platforms, allowing to play under different operating systems on PCs, consoles and mobile devices.
What happened for Notch Persson and his partners to have such a change of heart? In the statement that confirms the acquisition by Microsoft, they explain that basically the company and in particular Minecraft had become too big for them. Persson tried to work on other projects smaller but interesting for him but there was too much pressure on him because of Minecraft.
For this reason, in the end came the decision to sell Mojang. Generally, in these cases, the former owners of a company remain in the buying one with management positions. Instead, Persson and his partners decided to leave to pursue other projects. With the money they're taking, they can do it as they like!
Mojang's acquisition by Microsoft immediately raised doubts about Minecraft's future. The Xbox platform is only a small part of Microsoft's strategy so it's likely that the new owner wants to bet on a version for Windows, porting it to Windows Phone given the growth of the mobile market. The fear is that the versions for other platforms will be abandoned.
In its official statement, Microsoft stated that Minecraft will keep on being available for the currently supported platforms. Can we trust Microsoft? This is a company whose history is full of monopolistic practices so many people are not convinced of its statements.