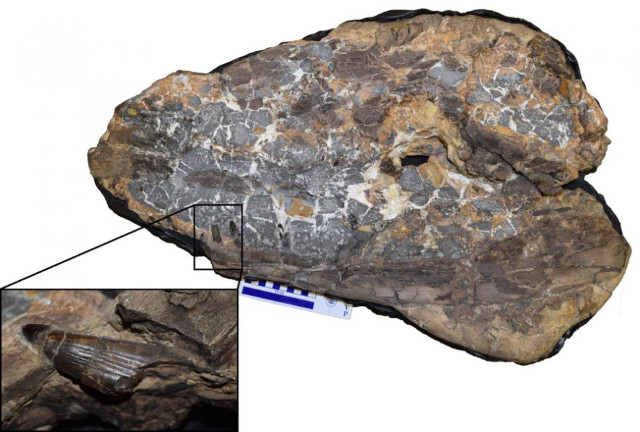 An article published in the magazine "Journal of Systematic Palaeontology" describes a research on a marine predator that was recently identified and called Ieldraan melkshamensis. This is a reptile about three meters (10 feet) long that lived in the shallow and warm seas that covered most of today's Europe in the Middle Jurassic, about 163 million years ago. This species was classified as part of the taxonomic tribe of Geosaurini and provides new information on the origin of today's crocodiles' distant relatives.
The specimen of Ieldraan melkshamensis is one of the cases where fossils end up in some warehouse without being properly studied and then get rediscovered long afterwards. In this case, they're damaged fossils held in a warehouse of the London Natural History Museum for over 140 years and rediscovered by paleontologists at the University of Edinburgh. Originally, they were discovered in the English city of Melksham, hence the name of the species and its nickname "Melksham monster".
This study of those old fossils proved to be important because it provides new information on the evolutionary history of a group of reptiles related to crocodiles. So far, paleontologists thought that these reptiles called Geosaurini originated in the Late Jurassic, between 152 and 157 million years ago. The discovery of Ieldraan melkshamensis and a new analysis of other species of that tribe suggests that the origin occurred in the Middle Jurassic, several million years earlier.
The paleontologists led by Davide Foffa conducted a new analysis of species belonging to other genera of the Geosaurini tribe: Plesiosuchus, Dakosaurus, Suchodus durobrivensis and Geosaurus, a genus closely related to Ieldraan melkshamensis. From that analysis they concluded that those genera originated before it was thought so far and this is important in evaluating the evolution of predation within that group.
Ieldraan melkshamensis had some distinctive features in its skull and especially in its teeth, shown in a a close-up in the top image. However, in many ways it had to be very similar to Plesiosuchus manselii, another reptile of the Geosaurini tribe. Its characteristics suggest that at the time it lived it was a marine top predator when dinosaurs dominated the mainland.
Mark Graham of the Natural History Museum, one of the article's authors, explained that the Ieldraan melkshamensis fossil was completely enclosed in very hard rock that made difficult the task to bring it back to light. Modern tools were needed to do it and maybe that's why the fossil was set aside so many years ago. Given the important information it provided, the hard work paid back.