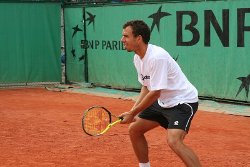 Slovak tennis player Dominik Hrbaty (picture ©Jonathan71) has announced his retirement from professional competitions.
Hrbaty was born on January 4, 1978 in Bratislava, Czechoslovakia (now Slovakia).
A lover of various sports, eventually he focused his energies on tennis and he turned pro in 1996.
Dominik Hrbaty won his first challenger tournament in 1997 and in the same year he reached the fourth round at the Australian Open where he was defeated only by Pete Sampras.
In 1998 Hrbaty won his first ATP tournament in San Marino.
The greatest result in a Grand Slam tournament arrived for Hrbaty in 1999, when he reached the semifinals of Roland Garros defeating Yevgeny Kafelnikov and Marcelo Ríos.
The best year for Dominik Hrbaty was 2004, when he won the Auckland and Adelaide tournaments at the beginning of the year and Marseille later.
In 2005 Dominik Hrbaty helped Slovakia to reach the Davis Cup final: he won his single rubbers but Croatia won the other three rubbers conquering the trophy.
[ad name="Google Adsense 468″]
In the following years Dominik Hrbaty's career started its descending phase, also beacause of an elbow injury. In 2008 he lost to his friend Roger Federer in Wimbledon and during the last changeover he went sitting close to him to tell him that he wouldn't play the prestigious tournament again.
Nicknamed "The Dominator", Dominik Hrbaty succeded in defeating the strongest players of the eras he played as a professional winning a total of 6 ATP single titles and 2 double titles.
Now Dominik Hrbaty has decided that the time to retire is arrived, also because soon he'll have a child so I can only wish him the best for his private life!