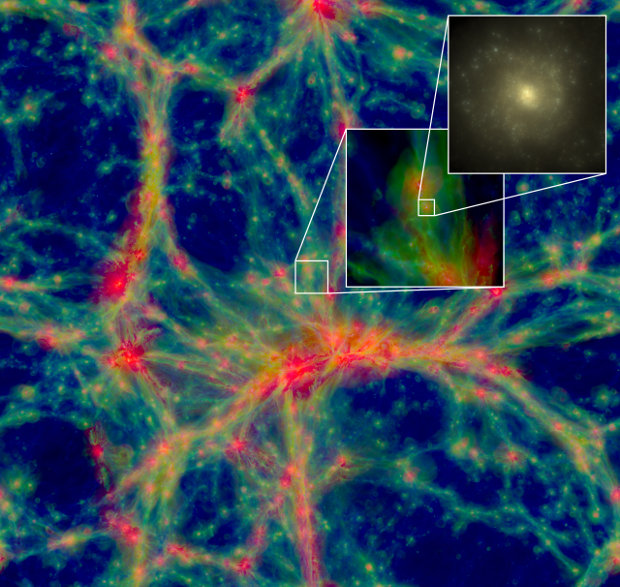 A team of astronomers from the Dutch University of Leiden and the British one of Durham created a simulation of the universe called EAGLE (Evolution and Assembly of Galaxies and their Environments). This project is run by the Virgo Consortium which has exactly the aim to produce cosmological simulations using supercomputers. The result, published in the January 2015 edition of the journal "Monthly Notices from the Royal Astronomical Society", reproduces faithfully the evolution of the galaxies from a very uniform starting point.
This isn't the first simulation of this kind: a few months ago, the results for the project Illustris, which has an akin aim, were presented. The EAGLE project was carried out thanks to months of work of two supercomputers, the British Dirac II (Distributed Research utilizing Advanced Computing), also known as "Cosmology Machine", in Durham and the French "Curie" in Paris.
The software used to create the project EAGLE simulations is a heavily modified version of GADGET-2 (GAlaxies with Dark matter and Gas intEracT 2), a Free Software released for the first time in 2005. It's a rewrite of the GADGET software released for the first time in 2000 exactly to create cosmological simulations.
The team of astronomers led by Professor Joop Schaye of University of Leiden managed to create a faithful simulation of the evolution of galaxies. The reason why the researchers believe they achieved such a result is that it taking into account the galactic winds. They come from stars, supernova explosions and supermassive black holes pushing gases out of the galaxies, which as a consequence form more slowly and lose mass.
This factor allowed to obtain galaxies that resemble the real universe, with their diverse shapes and sizes. The accuracy of the models used allow to study the evolution of galaxies from the Big Bang to the present day. They can examine the evolution of a specific galaxy to see the differences between the various types of galaxies. Going back and forth in the simulations will allow to better understand why the universe has its present appearance.
Thanks to the power of today's supercomputers, these astronomical simulations are reaching extraordinary levels of accuracy in the details created. Comparisons between different simulations such as EAGLE and Illustris may also help better understand the details of the evolution of galaxies.