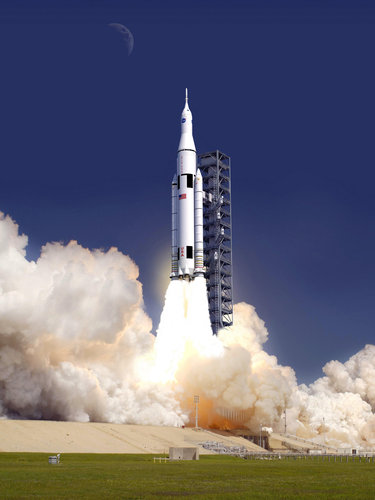 NASA announced its Space Launch System (SLS) project for the next space travel, even beyond the Moon.
After the end of the Space Shuttle program and budget cuts that led to abandonment or at least downsizing of other programs, we hope that this new project is carried out.
The new system combines elements of the Space Shuttle program, the Constellation program that was to replace it but then was abandoned and several innovations that we hope will be developed. This system is designed to launch an Orion Crew Vehicle Multi-Purpose (MPCV), whose development began as part of the Constellation program with a different launch system. The Orion spacecraft has become part of the new program and in the new project will be launched by the cheaper Space Launch System.
The long-term prospects for the new Space Launch System are to send astronauts into space to reach even Mars and the asteroid belt. Obviously the intention is also to replace the Space Shuttle launch system to send the Orion spacecraft in orbit missions.
The Space Launch System is designed as a modular system that can be configured for the various missions in order to have maximum efficiency and minimum cost. In its most powerful configuration, however, it should be the most powerful rocket ever built.
One of the consequences of the end of the Space Shuttle program was also the loss of many jobs. The Space Launch System should at least recover the jobs lost but possibly create new ones, thanks to future developments.
[ad name="Google Adsense 300″]
At the moment the development program isn't official and unfortunately the development time seems long. In fact, the intention seems to launch the Orion spacecraft through the new Space Launch System in 2017 with no astronauts on a mission. It's possible that for a mission with astronauts we'll have to wait until 2021.
Inevitably we'll have to see if the project can be developed while remaining within budget, otherwise anything could happen. We can at least hope that this isn't another false start that'll make us wait in vain: at this point we can wait for years but it's really time that NASA developed a new, serious space program!