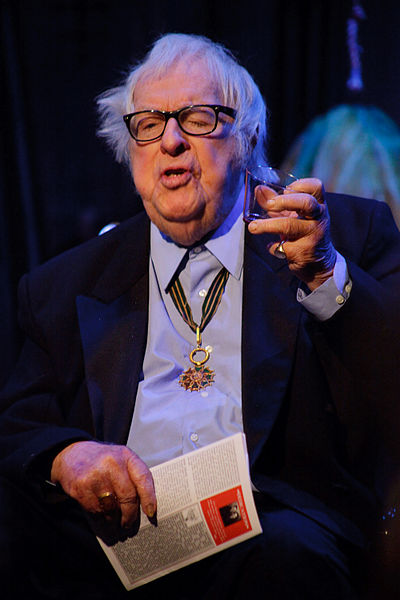 The great writer Ray Bradbury (photo ©Caleb Sconosciuto) died last night.
Ray Douglas Bradbury was born on August 22, 1920 in Waukegan, Illinois. His family moved to California in 1934 and there the young Ray discovered science fiction.
During his youth, Ray Bradbury was an avid reader of stories of various types but after graduating from high school he didn't go to college. Bradbury stated that he believed in libraries, not in universities.
In the late '30s, Ray Bradbury started publishing science fiction stories in various fanzines in the '40s he began selling stories to pulp magazines.
In 1950, Ray Bradbury published the series of short stories that formed "The Martian Chronicles" in a single anthology. At the time they were considered science fiction but the author didn't seek scientific realism and not surprisingly they gave him fame far beyond the boundaries of this genre.
In 1951, Ray Bradbury published the story "The Fireman", which later expanded into the novel "Fahrenheit 451". It's a dystopian story that's considered one of the great Bradbury's masterpieces. In 1966 this novel was adapted into a film directed by François Truffaut.
During his career, Ray Bradbury wrote a few other novels by combining elements of science fiction, fantasy and horror. He was primarily a writer of short fiction, so much so that for example "Dandelion Wine" (1957) is actually formed fixing-up some previously published short stories.
Ray Bradbury wrote the screenplay for the animated TV movie in 1993 "The Halloween Tree", which included Leonard Nimoy in its cast. Bradbury won the Emmy Award for that screenplay.
In 1977, Ray Bradbury received the World Fantasy Award for Life Achievement Award. in 2004 he received the National Medal of Arts. In 2008 he received the Science Fiction Poetry Association Grandmaster award. He also received other awards such as the Stoker Award life achievement and the SFWA Grand Master.
In 1947, Ray Bradbury married Marguerite McClure, who died in 2003. Together they had four daughters. In 1999 he had a stroke and got confined to a wheelchair but kept on working and supported the cause of space exploration.
Ray Bradbury was an extraordinary writer who helped science fiction getting out of a sort of ghetto but any label bound to a specific genre is too tight for him. Let's just say he was a great writer and poet.