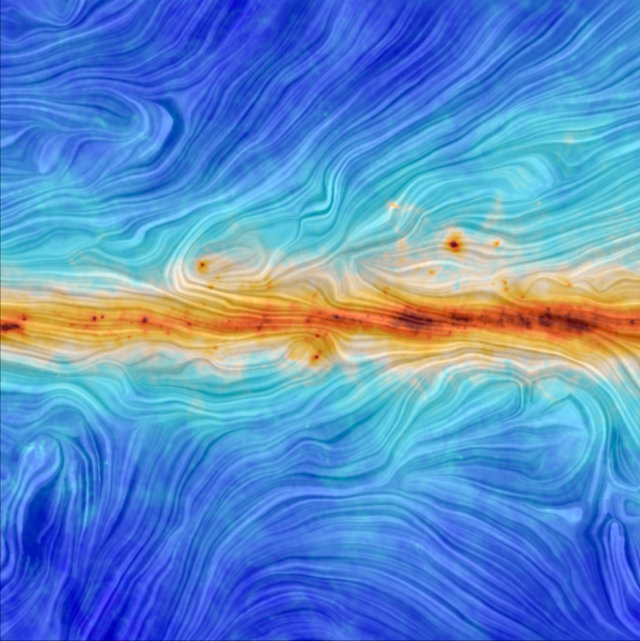 At first glance it might seem a Vincent Van Gogh painting, actually it's the visualization of data collected by the Planck Surveyor satellite during its mission, which ended just over a year ago. In the course of about four and a half years, Planck observed the oldest light in the history of the universe but also a nearer light emitted by dust and gas in the Milky Way. The interaction between the interstellar dust in our galaxy and the structure of the galactic magnetic field is portrayed in this amazing image.
ESA already presented a map of the galactic magnetic field based on data from the Planck Surveyor satellite in May 2014. As always in these cases, the data gathered keep on being analyzed for a long time after the end of a mission. This time the study was focused on the polarized light emitted by interstellar dust using it to study the galactic magnetic field.
The interstellar clouds of gas and dust are influenced by the galactic magnetic field: the dust particles tend to align their longest axis at right angles to the direction of the field. The consequence is that the light emitted by the dust grains is partially polarized and could be captured by Planck's polarization-sensitive instruments.
Scientists at the Planck collaboration have been exploiting this polarization for some time in their studies of the galactic magnetic field. In this case, the scale of the colors in the image represent the total intensity of the emission of dust, revealing the structure of the interstellar clouds in the Milky Way.
The magnetic field is more ordered along the galactic plane, where it follows the spiral structure of the Milky Way. Small clouds can be seen just above and below the plane, where the structure of the magnetic field becomes less regular. The filamentary interstellar clouds are preferably aligned with the direction of the ambient magnetic field, emphasizing the important role of magnetism in the evolution of the galaxy.
The purpose of this analysis is precisely to study the role of the galactic magnetic field in the build-up of structure within the Milky Way that lead to star formation. The data collected by the spacecraft Planck are really useful for research into the origins of the universe but also for those about the formation of stars. In this case there's also the "bonus" of an image that seems an extraordinary work of art.
[ad name="eBayUSUKAstronomy"]