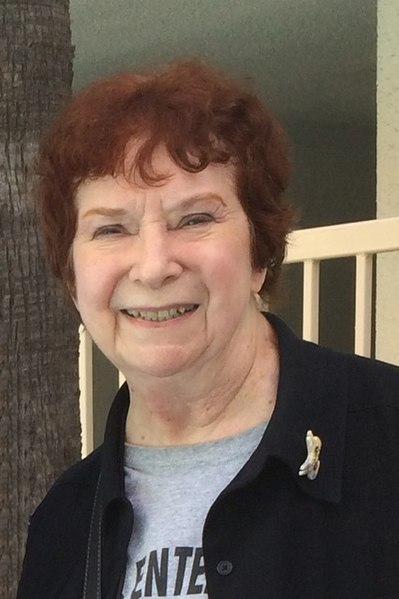 Dorothy Catherine Fontana (photo ©Larry Nemecek), passed away on Monday December 2. She was a writer, screenwriter and producer whose name is linked in various ways to the Star Trek saga since the original series.
Dorothy Catherine Fontana was born March 25, 1939 in Sussex, New Jersey, USA. She was only 11 when she decided she wanted to be a writer. After graduating at Fairleigh Dickinson University with an Associate degree as an Executive Secretarial major, she moved to New York, where she started working at Screen Gemes as a secretary. After some time she moved to Los Angeles, where she found a job at Revue Studios becoming the secretary of writer Samuel A. Peeples. During that time, she started writing stories for episodes of western TV shows.
D.C. Fontana found a job in the TV show "The Lieutenant" as secretary to producer Del Reisman and there she met its creator Gene Roddenberry when she replaced his secretary. At that time, she began to sign her works D.C. Fontana to prevent her pitches from being rejected only because she was a woman but in some cases she signed her scripts with male pseudonymes like Michael Edwards for two episodes of "The Wild Wild West". In 1964 she published the western novel "Brazos River" with Harry Sanford.
When Gene Roddenberry started working on the TV show "Star Trek", D.C. Fontana got involved from the beginning in the production mainly as a screenwriter but also as a story editor. She signed the scripts for various episodes with her name or with the pseudonym Michael Richards but her contribution also concerned other episodes in one way or another. She contributed to the building the Vulcan culture and to the development of the complexity of Spock's character, helping to make him one of the greatest characters in the history of science fiction.
After the end of "Star Trek", D.C. Fontana still worked with Gene Roddenberry on other projects but remained tied to that saga and in the 1970s she worked on the production of the animated series. During that decade she worked as a screenwriter, story editor and occasionally also as a producer on various other shows. At that point she was fully within the science fiction world and collaborated with shows such as "The Six Million Dollar Man", "Logan's Run" and "Buck Rogers in the 25th Century" but also worked on TV shows of other genres.
In the 1980s Gene Roddenberry started working on a new Star Trek TV show following the success of the first movies and D.C. Fontana wrote the script for the pilot episode of "Star Trek: The Next Generation". Later she collaboratet in some cases with teleplays for other episodes and working as an associated producer for a certain period. A few years later she also wrote the script for an episode of the TV show "Star Trek: Deep Space Nine".
In the 1990s, D.C. Fontana wrote some novels linked to the Star Trek saga but also continued her work as a screenwriter working on TV shows such as "Babylon 5" and "Earth: Final Conflict".
In the last decade, D.C. Fontana still worked on projects linked to the Star Trek saga such as video games and the "Star Trek: New Voyages" webseries.
D.C. Fontana was one of the most important people in the development of the Star Trek saga, a task that began at a time when it was difficult for women to write scripts for shows that weren't soap operas or variety shows. The recollection by people who collaborated with her stresses the importance of her work.