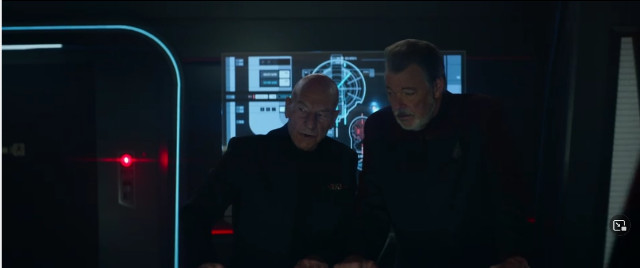 "Seventeen Seconds" is the third episode of the third season of the TV show "Star Trek: Picard" and follows "Disengage". It's available in various countries on the Paramount+ streaming platform and in many other countries on Amazon Prime Video.
Note. This article contains some spoilers about "Seventeen Seconds".
The USS Titan is on the run from the Shrike and the only hope seems to lose it in the nebula but Vadic (Amanda Plummer) and her team always seem to find its tracks. Raffi Musiker (Michelle Hurd) receives new information from Worf (Michael Dorn) crucial for a new mission.
"Seventeen Seconds" is an episode that mixes intense action accompanied by various revelations with reminiscences and confrontations between characters. Jean-Luc Picard (Patrick Stewart), William Riker (Jonathan Frakes), and Beverly Crusher (Gates McFadden) offer different angles on parenting. Their type of work certainly adds dangers and consequent fears that transform 17 seconds into a time that can seem infinite.
I have some concerns about some conflicts between people who have known each other for decades because in my opinion, they tend to be forced and don't really add emotion to a story that already has other sources of emotion. In particular, the action and revelations that come from both subplots offer plenty of reasons to get excited. There's a notable development in terms of plot that makes good use of not exactly original moments such as the "hide and seek" that exploits a nebula.
Worf's entrance came as no surprise. It's interesting to see again a character who showed his complexity and his evolution over the course of two shows and now has a way to shine again. The links between the protagonists' past and future are certainly a strong point of this episode.
Aside from my doubts about the Picard/Riker conflict, the tension at the end of "Seventeen seconds" in my opinion works for the revelations regarding who is behind the whole plan against the Federation and because the battle of the USS Titan is not resolved with some trick already seen many times. It's an ending that makes you want to see how the story continues in a season that celebrates the past but may have something to offer for the future of the saga.